⚡ How to regain your life in hand and become the captain? The journal is a first step! In this article, I give you every reason to hold one and content ideas to start today!
The introduction of my happiness in stock challenge has passed, feel free to (re) read over here. I spent so much time there, I hope it has given you the urge to tear everything to become the person you deserve to be and live the life you want!
As you know, I will offer you every month challenges (small, medium, big), you take the wave and surf in your direction!
Let's stop chatting and get on with it.
⚡ Challenge #1: create your logbook and become the captain of your life
When we think of newspaper, we immediately think of this dear diary that we all held being young (remember with the pen diddle or the fountain pen haha?).
Not there, in this article, I'd like to talk to you more about a logbook as I like to call it and why you should hold one right now!
Reason 1: have a guideline
If like me, you are full of ideas, goals, you are impatient and you wish to have everything there now, immediately… I advise you now to invest in a small newspaper that will channel and centralise all your good energies and intentions. It will be your logbook, which tells you at any time the direction to take when you get lost or demotive (which often happens to be honest). It will remind you of the goals you set yourself to be able to bounce quickly. It's a reminder of good behavior.  You got engaged, and there's no way to back off ahah.
Reason 2: to get to know each other better
It may sound silly said like that, but as soon as you start writing on paper your emotions, your desires, your fears, your blockades, everything becomes clearer. You release your mind from the wrong things to capture the positive. You realize your progress and you learn to know yourself somewhere, it's soothing!
And it's proven, writing our emotions decreases stress and dramatically improves our quality of life, thus health. So what are we waiting for to get started?
Reason 3: keep in mind the good memories
By narrating our emotions, our feelings, our impressions, our desires, our daily life, we keep somewhere a trace of our past, of what we have lived. Often our memories go to the memory level hatch! So when you fall back on a beautiful anecdote, it always makes you smile and you are happy to have kept it preciously in your journal.
Reason 4: this is your field of expression…
Where you can start writing (because, let's face it, it often happens to us ahah) and allow your imagination and creativity to be gamed. It's your journal, it must be your image! Photos, pieces of papers, collages… the possibilities are endless.
Now that you're convinced (or almost), what do we put in it?
Before anything else, it is good to specify that a newspaper is totally free and will be specific to each person.
What you put in it depends entirely on your goals.
For my part, it allows me to list a lot of things that will serve me to develop myself personally and for that, I have chosen quite personal topics that you can choose to follow or adapt and complete;).
Here are my great topics: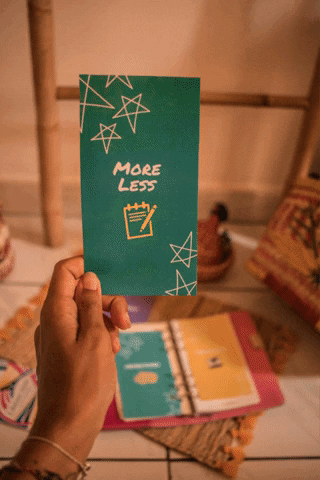 Item 1: more/less
The purpose of this section is to list habits or behaviors that I want to adopt or to abandon altogether. It is my personal guide that tells me the road to take and the paths to be left to reach my point of arrival faster. (Yes, I like metaphors).
Section 2: gratitude
This one is super important and my favorite, it allows to list all the little things of the everyday that have become invisible to us but that are indeed there in reality! By putting black on white, all that we already possess, we quickly realise that all that we already have is ample enough. That there is not necessarily a need for more to be "happy." By having this in front of the eyes, we adopt a new vision, we see life differently, we relativise, we benefit more and above all we refocus on the present moment. I assure you! Because life is there, now it's not tomorrow.
Item 3: my goals
Ahh, here we go again, we'll talk about it right here. Besides, have you listed them? It's time or never to burn them on the marble (aka your journal). What are your life goals? Who do you want to be and what do you want? As soon as you register it, you commit yourself to your death to apply it every day to make it possible. Ok?
Item 4: my memories
I have a fish memory, this is one of my flaws… It seemed important to me to incorporate this section so that I could read and learn about the best moments of my life. Even 5 years after or 6 days, it's always good to remember the good things. Perfect to give back your smile when you spend a bad day! Besides, I'm thinking of buying a Polaroid to capture these moments and insert them to the newspaper!
Item 5: my successes/successes
Ditto, one of the flaws that greatly poisons my life is my lack of gratitude towards my own person. Like, everyone says good things about my work and I am: Oh yes, do you really think?
The chick has 0 recognition of her work! So important for me to integrate this one in my journal. It will allow me to boost my confidence and to be proud of my achievements (as it is, personally and professionally).
Item 6: reminder!
We all have mantras or phrases that inspire us so much, that they make us want to start everything and tear there, now, immediately!
These phrases can be derived from quotes, from a passage from a book you like or from a movie. It would be a shame not to leave them a small place in our dear journal.  Isn't it?
Now that we have this, when do we write? Here too, you choose. Some will tell you every day, I in any case I take it over the water and I write when I feel the need. In any case, I keep it with me, every day, ready to be drawn when the urge to write becomes unbearable haha.
And that's it, end of the first happiness in stock challenge, you know everything!
I convinced you? Or maybe you're already holding a newspaper? Do not hesitate to share your opinions in comments, I am always curious to know them.
Before I forget, I want to offer you my templates so you can start your journal too. Sign up for my happy newsletter to have them! Feel free to use them and share them by mentioning me;). Don't hesitate to follow me on social networks for more tips.  
⚡ Pin the article on Pinteret! 
When do you start? 
♥ Pssst: you liked this article? Don't hesitate to share it and press the ♡ just below! Join me on Instagram and Facebook for more nonsense!